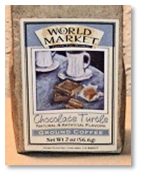 My well-meaning daughter picked this up whilst out shopping: World Market Chocolate Turtle Coffee. It's pre-ground flavored coffee.
I like many of World Market's products, and while I'm not a huge fan of flavored coffees, I do like some of them. However, you would think that they would know that turtles don't taste good, and not put them into coffee.
This actually tastes like they ground up a turtle's shell and mixed it right in. Seriously. There's this odd aftertaste of old ground-up bone, which is probably just a tang of staleness picked up by the coffee as it sat in a warehouse for seven years.
I've had canned coffee that tastes better than this stuff. I've had instant coffee that tastes better. The hint of coco that makes the "chocolate" in the "chocolate turtle," even that tastes stale.
Yuck.
It could be that this was just a bad lot. It could be that this usually tastes fine. But unfortunately this one didn't.
If World Market wants to send me a fresh batch to try, and I like it better, I'll revise my opinion. Until then I have no choice but to advise people to avoid it.