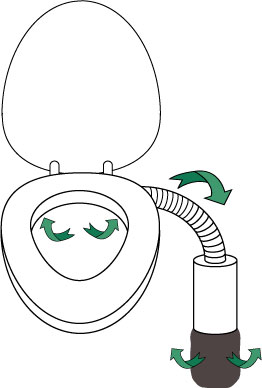 The AirFresh Seat eliminates offending toilet odors as they are created, whisking them away via a power filter canister where the air is cleansed before being released.

The end result is, by the time you stand up, the odor is already gone.

The filter is activated automatically when you sit down. It shuts off when you stand up. Power is supplied by a single 9 volt battery, which lasts up to 100 hours of operation.
Only a limited number will be sold at the reduced, introductory prices shown below.
This includes seat, hose, power filter canister, filter material, and instructions ... everything needed to quickly install and enjoy!
For more information, or to get in contact with us to order your very own AirFresh Seat, please use the convenient form below.