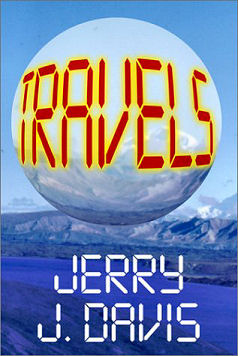 ---
What's New
My Sci-Fi parody It Came From Willy McCracken's Buttocks is featured in the anthology The Best of the Bubbas of the Apocalypse published by BenBella Books. Available now!
Also, you can find it in the original Yard Dog Press's anthology Houston, We've Got Bubbas, which is still very much in print.
---
I've joined my good friend and fellow writer, Melanie Fletcher, in a brand new podcast series: "Don't Quit Your Day Job" Check it out!
---
Travels by Jerry J. Davis
In a world forever changed by corporate warfare, where even the government and religious powers bow to the will of mass media, a handful of hackers and urbanite rebels plot against a cybernetic power they're convinced is the Antichrist himself.
Available at most online bookstores, including Amazon.com and Barnes & Noble.
You can read an excerpt or the story behind the novel.