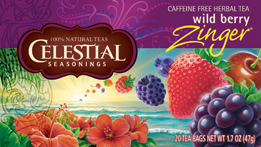 This is a herbal tea that is sweet even without sweetener.  Which is how She prefers it.  He still adds a bit to his because, well, he has a sweet tooth.
HIM:  Extremely fruity.  I can't put my finger on exactly which fruit, though.  It's not a grape taste.  More like blackberries.
HER:  It has a sharp citric smell to it.  Very nice.  Aromatic.
HIM:  The flavor has shadows of Juicyfruit Gum.  Also shadows of wine – there's a slight, but pleasant, tannin tang.
HER:  It tastes like hot, very strong black current.  Like Ribena warmed up.
HIM:  Yes, it tastes more like a hot fruit drink than a tea.  It's quite yummy.
HER:  I think it's groovy.
HIM:  I think it's very groovy.  I think it would taste good iced, too.
HER:  Iced tea is an abomination.
HIM:  You only say that because you're British.
HER:  I say it because it's the truth.  Tea is to be enjoyed hot.  When it's cold, you throw it away.
According to the Celestial Seasonings website, Wild Berry Zinger contains these ingredients: Hibiscus; rosehips; roasted chicory; orange peel; blackberry leaves; natural flavors of black raspberries, strawberries, blueberries, red raspberries, cranberries and cherries; citric acid and natural flavors (contains soy lecithin).