Posted by jjdavis on 24 Aug 2008 at 11:49 am | Tagged as: Beer Reviews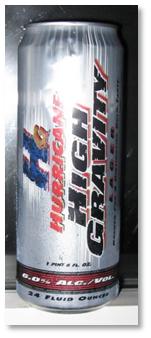 Stop the press!
A friend of mine, thinking he was buying one of my favorite beers, brought over a 24 ounce can of Hurricane High Gravity Lager. Well, no, I'd never had this before. What he thought he was buying was 211 High Gravity Steel Reserve — but this is something else, and I looked at it with suspicion. Where, I wondered, did this come? Who brewed it?
My heart fell. On the side of the can I found these heinous words: "Brewed and canned by Anheuser-Busch, Inc." Oh great, I thought. High gravity Budweiser.
Yuck.
So I popped the top, scrunched up my nose, and took a sip. It was a gift, after all. Didn't want to be rude.
Again, here is where I say: "Stop the press!"
This is quite an occasion. It's a date to circle on the calendar. I have finally found something brewed by Anheuser-Busch that I actually like.
There is no tang of industrial machinery. There is no sickening aftertaste. There is actual, decent – I can even say appealing – flavor. My friends I am in shock.
This beer is not bad at all.
Now I'm not going to go so far as say that it's wonderful, but I can't condemn it, and I will say that I would gladly drink it again.
Anheuser-Busch, don't get used to this, but I hereby proclaim your Hurricane High Gravity Lager as a groovy brew.
Now I wince as I publish this, as I'm sure it's going to shred my credibility to pieces. But I have to be honest. I give credit where credit is due. I enjoyed this beer. And it went very well with a rack of smoked ribs.
Digg StumbleUpon Etc.
Comments Off on Hurricane High Gravity Lager