Posted by jjdavis on 13 Oct 2007 at 11:11 am | Tagged as: Beer Reviews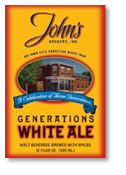 I lost the picture of the bottle, hence the logo graphic.
I also lost this review, having saved the file in the wrong folder on my laptop. I happened upon tonight it by mistake.
Aha, I thought. That's where that went.
My notes on this beer tells the tale of surprise, as in, I was surprised I liked it as much as I did. You see, I don't generally go for spice beers. They force me to exercise my ability to suppress my gag reflex, and afterwards usually leave me with indigestion.
With John's Grocery Generations White Ale, by Millstream Brewery, this was not the case. It's actually a very enjoyable beer, with light wheat malt, serious hops and very well blended spices. The taste is at once both smooth and zesty, with an aftertaste that hints strongly of citrus.
I'll rate this one as mildly groovy, good for a picnic or as a poolside refreshment. It would also be good as a marinade for barbecued steaks.
Digg StumbleUpon Etc.
Comments Off on John's Grocery Generations White Ale