Posted by jjdavis on 15 Oct 2007 at 11:11 am | Tagged as: Beer Reviews, Holy Beer Contenders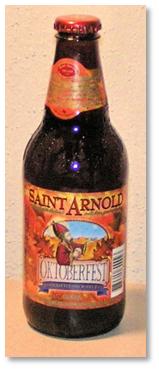 First things first. I want to wish my older daughter, Danielle, happy birthday! She is 21 years old today.
That has nothing to do with this beer review other than the fact that she is now of legal age to drink it. She won't, though, because she doesn't like beer.
Which is fine. The last thing I need is someone drinking my beer when I'm not looking. Heh.
Anyway, this beer is from my good friends over at Kegs And Barrels, which I always refer to here as "my local beer heaven." It was specifically suggested to me and I'm glad they did.
Pop the top of this Saint Arnold Oktoberfest and you're welcomed with a sweet citrus smell over golden roasted malt. Not much hoppiness in the scent, but when you taste it, the hops are there.
The strong citrus taste is prevalent in the flavor as well. It rides like a Harley over the highway of golden malt, with a strong hoppy breeze blowing straight from the west. It's smooth, rich, and damn good.
Damn good. Damn. Good.
Can you tell I like this beer? I mean, I really like it. It's a winner, and I not only proclaim it as a groovy brew but place it in the ranks of a Holy Beer contender, weighing in at 6.1 on the Holy Grail Scale.
Digg StumbleUpon Etc.
Comments Off on Saint Arnold Oktoberfest