Posted by jjdavis on 23 Mar 2008 at 04:55 pm | Tagged as: Beer Reviews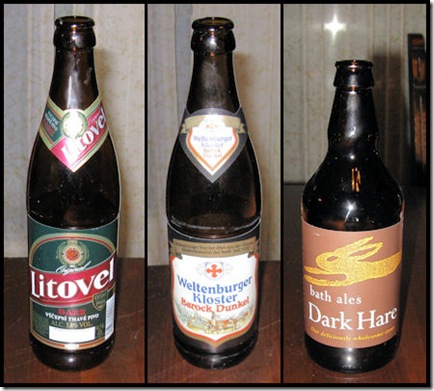 Midway through my business trip to Finland, my colleague and new friend Tapio graciously invited me to have dinner with him and his family in Espoo, and for the event he secured for us a number of beers to try — only half of which we made it through.
There was actually a forth beer, but I forgot to take a picture of it.
Oops.  Oh well…
Of course, being this was an informal and absolutely enjoyable dinner, I didn't sit there and scribble notes about the beers.  All three (actually if you include the forgotten beer, all four) of them were excellent.  So without any real details, I hereby give my groovy regards to Litovel Dark, Weltenburger Kloster Barock Dunkel, and Bath Ales Dark Hare.
And many, many thanks to Tapio and his family for having me at their wonderful home!  Kiitos!
Digg StumbleUpon Etc.
Comments Off on Three Beers in Espoo