Posted by jjdavis on 15 May 2008 at 11:11 am | Tagged as: Beer Reviews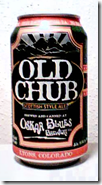 It comes in a can.  At least, I didn't see it in a bottle.  And even without reading the label you can tell it has attitude.
If you do read the label, though, it says:  "High altitude.  High attitude.  High land.  High ya.  No rice."
Hmm.  Sounds like they're smoking "hops" over at the Oskar Blues Brewery.  Yeah.
Anyway.
Let's see how it tastes.  I pop open the can and take a sniff.  A low-key barley whiff and something that reminds me of whiskey.  Seriously.  Whiskey.
Intriguing.  Yes, so I raise it to my lips and take a sip.
It's a pretty good beer for something that's in a can.  Unfortunately I can taste the can, and it doesn't help the flavor.  But can or no can, it's buttery smooth and aggressively hoppy, supported by a nice solid malt foundation that, once again, has a hint of whiskey in the flavor.  A little on the heavy side, which I like, and definitely features a nice alcohol twang (8.0% by volume).
Groovy, but not a holy brew.  I'd be happy to drink a six pack of this on a hot summer afternoon out by the pool.
Cans, you know, don't break.  They're pool safe.
Digg StumbleUpon Etc.
Comments Off on Old Chub Scottish Style Ale