Jet Powered Strap-on Wing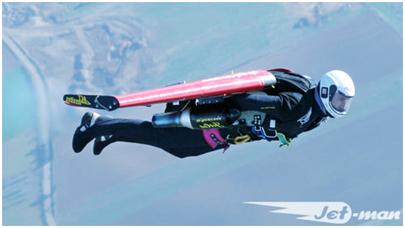 Now this is a groovy gizmo, though not one you'll likely keep in your garage. Daredevil Yves Rossi has created a jet-powered set of wings that he straps to his back and uses to outrace airplanes. It's quite a ways along it the development, as it actually flies (see the video on his website or on YouTube), but to take off he still has to jump out of an airplane.
While watching the video I found myself both envious of the way he flies around like a genuine superhero, and terrified that the video would end with a Steve Austin we-can-rebuild-you type of crash. How in the world, I wondered, is he going to land? Sliding on his knees? Ouch!
Never fear, he simply powers down and pops a parachute.
Sweet.
Digg StumbleUpon Etc.