Cold Beer Flying At Your Head
You just have to love innovation, though this is not something you'll find hitting the mass market anytime soon.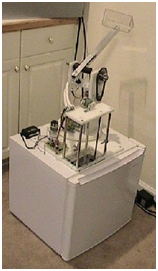 Tired of having to get up to get a beer in the middle of an important sporting event on TV? Well, a very clever engineer named John W. Cornwell devised a refrigerator that brings it to you … via special air delivery, no less.
Inside, a can is brought up and out of the fridge by an elevator, where it's then transferred into the business end of a catapult. The catapult swivels around and tosses with amazing accuracy to where ever you've aimed it.
Don't take my word for it, watch the video.
This groovy piece of homemade hardware is controlled by a car's remote. Pressing the "unlock" button starts the catapult and it spins around until you press unlock again. Press "lock" and the beer is in the air.
If you think about it, the gizmo not only makes it effortless to get a beer, it also limits how many you can have. When you've passed the point of drunkenness where you can no longer operate it properly, or lack the eye-hand coordination to catch the flying can, the beer hits you in the face, knocking you out, and thus preventing you from imbibing further.
The only thing I'd do differently is fill it with a different type of beer.
Digg StumbleUpon Etc.