Captain to away team: Set your Coke bottles to "Stun"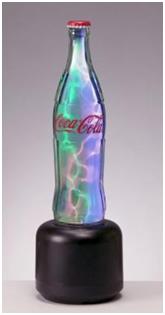 Sad news for owners of this genuinely groovy gizmo, the Coca-Cola ElectroPlasma Lamp: it's been recalled.
What could be more perfect than a gas plasma lamp inside a Coke bottle? One that doesn't have a metal cap. It seems this is a major design flaw, especially considering that metal conducts electricity. Hmmm… isn't the whole point of encasing a plasma lamp inside glass to keep the electricity INSIDE?
Unfortunately people are being burned by electric arcs zapping curious fingers because of this lack of foresight.
Ouch. Burnt fingers. Lawsuits. Recall the product. Sadness. Especially for Emess Design Group of Ellwood City, PA
Personally, and I'm not suggesting any of you do this, but I'd just put it up where no one would be touching it, and simply keep the lamp. I mean, look at it. That is one cool lamp. And after the recall it's also going to be one really rare lamp as well.
Again, I'm not suggesting anyone do this. No way, no how. Not me.
Digg StumbleUpon Etc.