USB Powered Dog Collar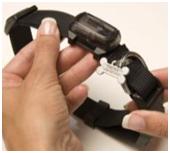 This is interesting and … I'm sorry, it just made me laugh.
So you lose your dog, Spot. Some Good Samaritan finds Spot and takes him home.
See Spot's intriguing looking collar! The Good Samaritan finds a tag on it that reads, "This is a USB device." Unfortunately the Good Samaritan turns out to be computer illiterate and has no idea what that means.
Meanwhile you know Spot is safe because you paid good money for this high tech PetSafe Micro I.D. Rescue Collar, used their software, spent a good part of the evening doing data entry into the embedded chip, and have faith that whoever finds Spot will have all the information they need to bring your beloved pet home.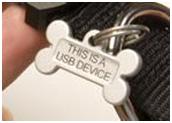 Unfortunately the Good Samaritan is still scratching his head at the meaning of "USB" device. He takes it to his friend, also a Luddite, and says, "What does this mean?"
They both look at the tag. "I dunno," says the friend. "UltraSonic Barking Device?"
"You think?"
"For the love of God, I have no idea!"
So the Good Samaritan, who's grown rather fond of Spot, throws the collar away and puts on a new one. The new one has a tag on it which reads, "If lost please call (973) 555-1212." It doesn't require a USB port and contains all the information that is actually required to return Spot should he stray again.
Never forget: Keep It Simple. I love gadgets as much as anyone, but this is so silly I had to create an entirely new category for it: A Goldberg Gizmo.
Digg StumbleUpon Etc.