Wi-Fi Detecting Tee Shirt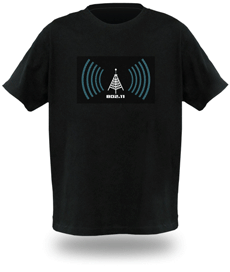 Oh my God they didn't.
Yes, they did.
This is a real, working Wi-Fi detector on the front of this tee shirt.
From ThinkGeek, masters of this kind of brainiac fun, you can get this for less than $30 and be the King Hell Ubergeek of the party. But, only if there's Wi-Fi around.  Which, if you are a King Hell Ubergeek, there will be. Or you wouldn't be there.
Product Features
Glowing animated shirt dynamically displays the current wi-fi signal strength.
Shows signal strength for 802.11b or 802.11g
Black 100% Cotton T-Shirt
Animated Decal is Removable (with hook and loop fasteners) for Easy Washing
Battery Pack is Concealed in a Small Pocket Sewn Inside the Shirt
Runs for hours off three AAA Batteries (not included)
Digg StumbleUpon Etc.