Talking Plastic Jesus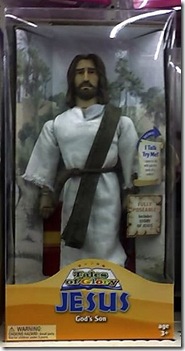 I came upon this at Wal-Mart yesterday.
It's a Barbie sized Jesus doll that quotes scripture, tells bible stories, and gives sermons.
It's also long-winded, because after I pushed the button on His back, Jesus went on and on, and kept going long after I put Him back on the shelf and wandered away.
This toy is surreal in a way that the late Philip K. Dick would have either absolutely loved, or been terrified by.
Combine this with the AI of the various robotic toys that are coming out now, and by Christmas 2010 we'll have little Jesus dolls that follow you around the house, quoting scripture and asking you to accept Him into your heart, until you've been completely saved.
God be praised.  And keep plenty of batteries on hand.
Digg StumbleUpon Etc.