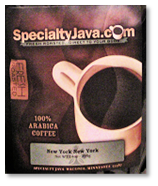 I just had some of the best coffee I have ever tasted. Ever.
Coffee and the Internet have always gone hand-in-hand, usually at Internet cafés that let you surf while you get wired. Most of the time it's free, unless you're at Starbucks who for some reason feel you need to pay for 'net access (never figured that one out). But, I digress, because this is about the Internet/coffee partnership turned upside-down.
I recently discovered SpecialtyJava.com, a place where you surf to and buy coffee, instead of buying coffee and then surf. Their stated mission is to import the world's finest coffee beans, personally fresh roast each order, and deliver it to your door as fast as possible.
Is that cool or what?
They sent me their best seller, which they call New York New York, and I ground some up and brewed it.
Oh my. I mean, OH MY. I actually said that out loud. Then I said, "Oh my God this is good coffee!"
Here's how they describe it on their site (I'm quoting because it's very accurate): "A fantastic, rich, aromatic, full-bodied, smooth, low-acidic blend. We combine a SHB Central American, a South American and a select Indonesian to create a truly unique, high impact cup. Striking!"
And it is. Smooth, dark and rich with nutty notes, strong but not overwhelming. The taste itself is good up front but does this amazing bit where it gets better and better as you drink it. This coffee gives your palate a long, luxurious java massage, and tickles the taste buds long after the coffee is gone.
Better than good, it's fantastic, but I do have to add a warning:
Coffee this good is most likely addictive.