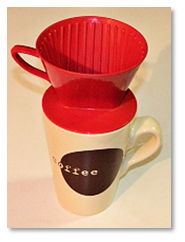 To all coffee maker manufacturers out there, I put you on notice.
You are hereby officially challenged!
Prove to me that your coffee maker makes better coffee than my cheap little dollar store drip filter. Not "as good" but better.
The coffee must be made in my home, using my coffee and my bottled water. My contention is that you don't have to pay high dollars to make excellent coffee, and that no drip maker at any price can make coffee that tastes better than this Zen little cup-top drip filter.
All challengers will be featured here on the site. Each will have its merits reviewed. The first manufacturer who proves me wrong will get free advertising for the life of this publication.
Those manufactures who turn down or ignore this challenge will also be listed.
Manufacturers Challenged So Far:

Black & Decker
Braun
Bunn
Cuisinart
DeLonghi
Farberware
Hamilton Beach
KitchenAid
Krups
Mr. Coffee
Sunbeam
West Bend