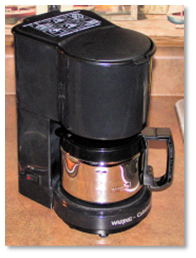 For the life of me I could not figure out why the coffee tasted so awful.
I'm on a long term assignment, and I'm being put up in a nice hotel suite with a little kitchen. I already knew the coffee would suck so I brought my own. To my surprise and horror, it still sucked.
Must be the water, I thought, and went out and got bottled water.
Still sucked.
Must be the coffee pot, I decided, and cleaned it out thoroughly. Made a new pot.
It still sucked.
I cleaned it again, this time using that stuff that goes through and strips out all the lime and sediments. That had to be it, I thought. There was nothing else it could be. I was using some of the best coffee I've ever had, and I was using good water, and the filters were fine.
Yet, the coffee was still horrible.
Finally I figured it out by listening. It sounded like the boiler was never quite shutting off, that it kept trying to spit more water through. Upon opening it, though, I found there was no water in the tank. The boiling sound was coming from the coffee pot.
The stupid freaking hotel coffee maker was boiling my coffee! The pot warmer was set way too hot.
Well, that was it. I was finished dinking with this coffee machine. I decided to simply go and buy a little cup-top manual coffee maker like the one I use at home.
I gave up on that, as well, after days of searching. No one here carries them.
It came down to two choices … buy a coffee maker, or make my own coffee maker. Well, I certainly wasn't going to buy one. I came close a few times — I was that desperate — but in the end I decided it wasn't rocket science, I could construct my own.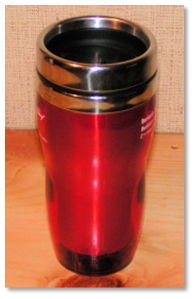 I started with a travel mug that had its own lid. It was perfect because I already had an idea of what I would do, and needed the lid for support.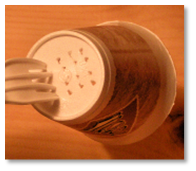 Next I took a Styrofoam coffee cup that the hotel provided and poked holes in the bottom with a plastic fork. This became the holder for my coffee filters.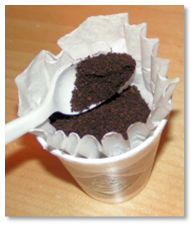 After that it was a simple matter of stuffing a filter into the Styrofoam cup and measuring coffee into it.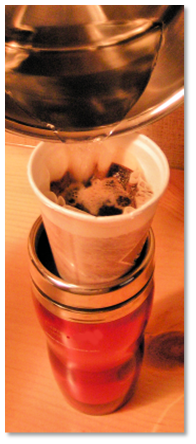 I set the ad-hoc coffee maker onto the open lid on the travel mug and poured the hot (but not boiling) water into it.
The coffee steeped as it should, trickled down fresh into the mug, and guess what?
It tasted awesome.
Now, I know what some of you are going to say. I should have simply called down to the front desk and demanded another coffee machine. I have to admit the thought did occur to me more than once, but I didn't because I figured they'd just bring another one of their horrid coffee makers. Besides, this was a challenge and I wanted to solve it myself.
And, truth be known, I thought it would be fun to write about.
This is a good example of how there really is nothing to brewing good coffee. You don't need a $400 machine with its own cybernetic brain, or four dials and 37 valves.
All you need is good coffee, good water, and to brew it at an appropriate temperature.
That, and an unwillingness to settle for coffee that sucks.