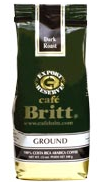 This is your basic black tie coffee.
You can tell just from the packaging. I mean, look at it. Especially compared to all Café Britt's other wild jungle-themed artistic splash, this one looks like a tuxedo. A black dress. Formal wear.
Someone wealthy has either gotten married, or died.
The coffee lives up to the packaging. It's your standard high quality delicious gourmet dark roast blend. Nice and strong, full bodied, and with a sharp tangy acidity. It means business.
It demands respect.
If the leader of a country is coming over for dinner, serve this coffee. If your future in-laws own three yachts and their own jet aircraft, serve this coffee. If the CEO of a multinational corporation is due in your office for a one-on-one strategy meeting, serve this coffee.
And…
If you want a good cappuccino with a lot of punch, use this coffee!