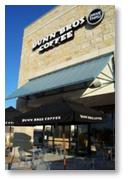 When a coffee is really good, it's hard to write a review about it. I mean, how many ways can you say "good"?
Dunn Bros Sumatra is mild, smooth, with an excellent flavor … this is an all day drinking coffee.
Cup after cup, keep it coming.
Being that it's Dunn Bros, it's always fresh because they roast the beans right there at the store.
No, they don't pay me. No I don't get free coffee there.
It is, quite simply, one of my favorite coffees at my favorite local café. Starbucks doesn't hold a candle to this place.
Sorry Starbucks, but that's my opinion.