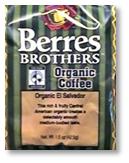 My love picked up this for me to review. "I know," she said, "you'll probably hate it."
The outlook wasn't good for two reasons. One, it was a pre-ground bag, and two, the bag reminded me of those horrid office and hotel coffees. Same size, same recommendation (good for 8 to 10 cups).
I knew nothing about Berres Brothers, except that the package read Organic. That doesn't mean too much anymore. Marketing firms seem to be able to twist anything into an organic knot, and besides, just because it's organic doesn't mean it's not going to be stale as tomb dirt.
One morning before work we brewed up a pot. I took my first sip out of a small cup that was black without any sweetener, just to give it a chance to impress me.
Shock me, is what it did. Surprise me. It was good!
Since then I've visited their website and inquired about their other coffees. I also learned why the packaging looked so much like the dreaded office coffee packets — that's how Barres Brothers started out. The company originated as a vending service by their father, and when the sons took over they expanded their services to include coffee. Not someone else's old moldy discount coffee, but their own, roasted by them in small batches and delivered to stores and offices around Watertown, Wisconsin.
Imagine that. Quality coffee from a corporate coffee service. A sign that there is good in this world.
In 1997 they dumped the vending service and concentrated on coffee roasting.
Their Organic El Salvador brews up rich and smooth, with a nice chocolate nut nuance and a fruity overtone. I can imagine drinking it in an office all day long, and being happy and productive. I can also imagine drinking it on a beach with my feet up, with the early morning fog still swirling around the shore.
Thanks go out to my love for picking this up for me. It's a groovy brew to be sure!