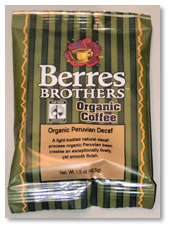 I know some of you would rather go without, than to drink decaf.
I don't go without. I can't. The coffee must flow.
There are good decaf coffees available if you look for them. They're perfectly drinkable and they don't keep you awake all night.
So, when you want coffee at 10:54 PM, you can have it.
Berres Brothers Organic Peruvian Decaf is one of these good decafs. I'm drinking it now, straight up black. It's got a medium acidity, with hints of toasted nut, bittersweet chocolate, and a mellow finish.
The flavor stands up well even when cold, so it works as an iced coffee too. What I like to do at night is brew up a good decaf like this one, let it cool, add some sweetener and ice, and occasionally a flavored creamer.
In fact … I think that's what I'll go do right now.