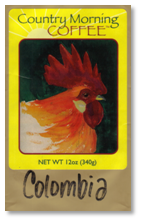 This is an actual scan of the package. Country Morning Coffee – Colombia Roast. It's such a fresh, small batch roast that each bag is hand labeled with a Sharpie.
Right up front, let me tell you this: It's wonderful! This is a light-hearted, lovingly roasted bean with a sparkling pure flavor, sprite and sweet, with just enough dark undertones to give it some depth. The aftertaste is pure magic. It's the most consummate example I have had of a Colombia roast.
I could quite easily drink this coffee all day long, everyday, for 11 days straight.
The woman behind Country Morning Coffee is Elizabeth Wolf. From her website: "I roast my coffees in small 20 lb batches with a gas powered, drum coffee roaster. Small batch roasting and straightforward technology give me more control over the roasting process. Many variables, including the weather can affect how a batch of beans will roast. Small batch roasting allows me to give every roast the meticulous attention they require. After every batch is completed I taste it, guaranteeing our customers the delicious coffee they have come to love."
Her company motto: "Fresh Coffee is Happy Coffee."
All I can add to that is: Groovy!