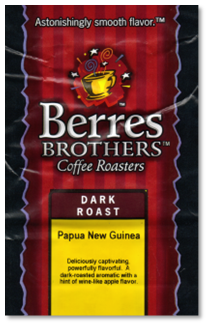 This coffee features a very sneaky stealth flavor.
The first third of this cup I was thinking, "Eh. Not very impressive." It's smooth, subdued, and pleasant, but not outstanding.
Then I took a long distracted sip, let it blossom on my tongue, and realized an outstanding flavor had snuck right up on me.
This falls into a rare class of coffees which taste better the more you drink it. The flavor builds on itself. Powerfully complex, it simmers out a very loving, rich coffee undertone with sweet fruity notes, tinged with the subtlest hint of pecan.
This is an all-day-long coffee, morning straight through afternoon. This is a coffee that could singlehandedly make a Monday at the office much more pleasant.
From the package: "Papua New Guinea. Deliciously captivating, powerfully flavorful. A dark-roasted aromatic with a hint of wine-like apple flavor."
Now that they mention it, I can kind of detect a green apple nuance in the flavor.
It's good. In fact I would go so far to say … it's Groovy.