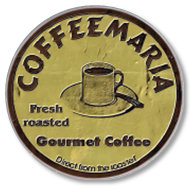 This coffee comes from one of my new top ten favorite roasters, Coffeemaria. Just by checking out their website you can see what they concentrate on : coffee. That's it. They roast coffee.
Good coffee.
They're so focused on what they do that they don't even have a logo. At least, not on their website. For the art you see alongside this review, I actually scanned a gold foil sticker that was on the bag of beans.
This is the first of a trilogy of reviews of their coffee, all of which are excellent. Today's subject … Java Pancour.
This coffee brews up tart, with an edgy, aggressive flavor featuring definite chocolaty notes. This is one of those lean back, close your eyes and smile coffees. It's like riding your bike on a beautiful crisp fall morning, coming to the top of a long hill, and coasting all the way down with your feet out and the wind in your hair.
I'd classify this as a dessert coffee. The strong flavor and sweet finish lends itself to cookies, cake, ice cream, and pie.
Or be a rebel and drink it in the morning with your donuts.
Why not? Live on the edge!
It will probably not come as a surprise that I officially designate Coffeemaria's Java Pancour as a Groovy Brew.